Spend $199 and get 6 months to pay + 2% Cash Back with Blispay. Learn More
Jolyn Studded Leather Bucket Crossbody - Black
crossbody bag
crossbody bag
The Jewel Studded Bucket handbag is for the chic and on-the-go woman. Made of supple leather Silver Hardware structure design features a tassel draw string Removable cross-body strap 2 interior pockets Comes in multiple fun colors to brighten every season Measures 7 X 7 X 7, Strap 42 inches
The Jewel Studded Bucket handbag is for the chic and on-the-go woman.
Made of supple leather
Silver Hardware
structure design features a tassel draw string
Removable cross-body strap
2 interior pockets
Comes in multiple fun colors to brighten every season
Measures 7 X 7 X 7, Strap 42 inches
Customer Reviews
Write a Review
Ask a Question
05/28/2020
MARY M.
United States
Got My Bag..Happy!
Thank you! After an initial mix-up in the color (I'm blaming Internet speed for processing Black which I hastily changed to Blue), I received my Navy Blue Jolyn studded leather crossbody. It looks great, is a terrific, classic color, and is a style suited to all ages, even this 74 year old who wants to stay fashionable. Accessorize!!
06/24/2020
Vicenzo Leather
I am glad we could fix your order.
Bucket Bag the BEST!
I purchased the studded pink bag over a 1 yr. ago.....I LOVE IT and received many compliments. Very lovely soft quality leather, quality made product and got the size the bag holds a lot!! Loved it so much just recently purchased the black studdded for a sisterhood friend for a birthday gift along with a pair of boots!! Of course she is in love with he bag and used the day she received. The boots she loves but hasn't been able to try on yet so hope they will fit or we can exchange very soon. Love this greet leather maker!! Excellent products.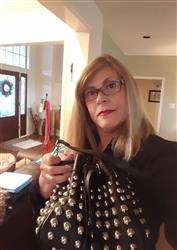 Praise studded!
I've had this bag for some time now and all I can say is AWESOME.. it's really worth it! The leather is amazing and it can hold quite a number of essentials, including my makeup kit plus a few more things. The studs really show off how tough and durable this bag is. Satisfied buyer here!
Well made
Durable is an understatement. I've been using this bag for almost every single day for the past 2 weeks already and it still looks brand new. Studs are great and they're not falling off too!
RETURNS, REFUNDS AND EXCHANGES POLICY
How To Return An Item
Your item must be in its original unused condition to be returned unless there is a manufacturer defect. Your must return the item within 30 days of your purchase. Please visit our returns portal in the link below to initiate the returns process and obtain your return authorization. https://www.vicenzoleather.com/a/returns
Please include a copy of your order information in the return box.
Return Exceptions
Merchandise that has been worn, used, or altered will not be accepted for return or exchange.
Restocking Fee
We do not charge a re-stock fee but you will be responsible for the original shipping and handling that you paid on the order.
Exchanges
If your item is in like new condition, you may exchange your item for a different size or color.
SHIPPING POLICY
All orders are shipped within 48 hours Monday - Friday 8am - 5pm. Where shipping over $100 is free Our policy is simple: We'll ship almost anything on over $100 site to anywhere in the United States—even Alaska, Hawaii and Puerto Rico—for free. No minimums. No kidding
Carriers
We use the following carriers to deliver our orders: USPS, UPS, FedEx and DHL.
Order Tracking
If a tracking # is provided by the shipping carrier, we will update your order with the tracking information. Please note that some orders using 1st Class USPS mail will not have tracking numbers.
Shipping Rates
The rate charged for the shipping of your order is based on the weight of your products, and your location. Before the final checkout-page you will be shown what the cost of shipping will be, and you will have a chance to not place your order if you decide not to.
International Shipping
Enjoy $15 shipping to Canada for all orders.
All other international orders ship for a flat $39.95.
Alternately, you may enjoy reduced international shipping rates through our partners MyUS and Borderlinx. MyUS and Borderlinx allow overseas customers the ability to forward any order from Vicenzo Leather to their International shipping address. If you live overseas and are interested in receiving Vicenzo Leather' products, please visit our partners MyUS or Borderlinx to learn more about their freight forwarding service to international addresses. Vicenzo Leather is not responsible for any charges applied by any freight forwarding companies. Sign-up for yUS and Borderlinx below.
Back Orders
If an item goes on back order we will ship you the part of your order that is in stock. When the item becomes available we will ship you the rest of your order. You will not be charged any additional shipping and handling for the second shipment.